Graphic Designer - is a job
2021 brought many changes to my life, and one of them was a job. I started working as Graphic Designer at Spring Real Estate. I had so much interest in design at that moment and wanted to play my role in the team of growing and successful environment. This potential has found its realization in a great, open-minded and growth oriented company. I am happy that our needs matched. Very cool team and big goals!
Graphic Designer - official diploma
Grateful for 3 years of great Graphic Design education at Graphic Lyceum in Rotterdam. It was great experience and upgrade of my skills. Learned a lot of new things, gained new experience. From now on, I have a Dutch diploma of Corporate Designer.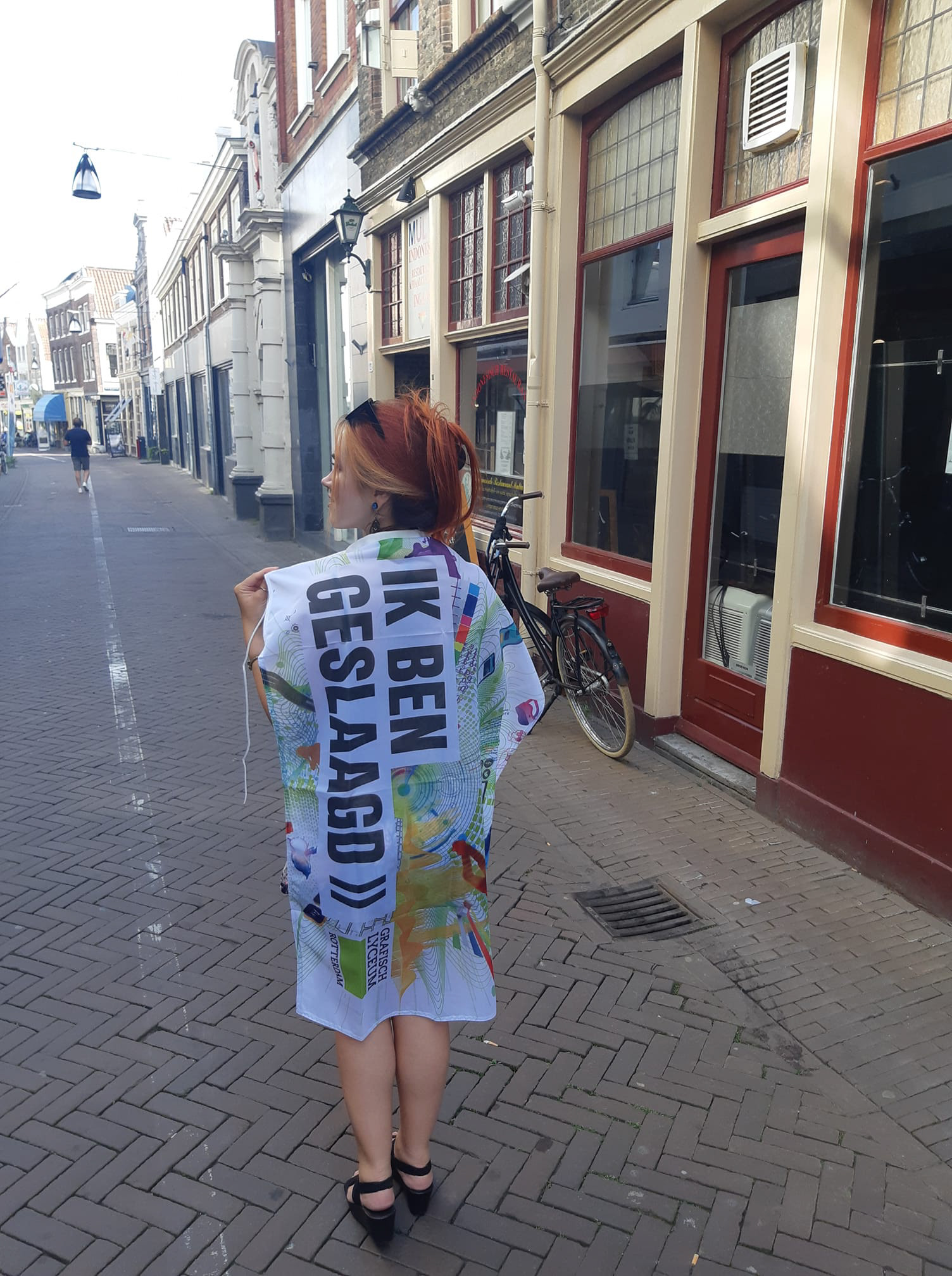 One more painting has found a new home. The first one in 2021!
2 more paintings have found their new home!
It makes me so happy to bring paintings to the customers! We stayed safe on 1,5 m but still could make a little talk. During Corona times I provide

free delivery

within The Netherlands to avoid traveling in public transport.
Thank you dear Raluca & Ashwin for taking the works home!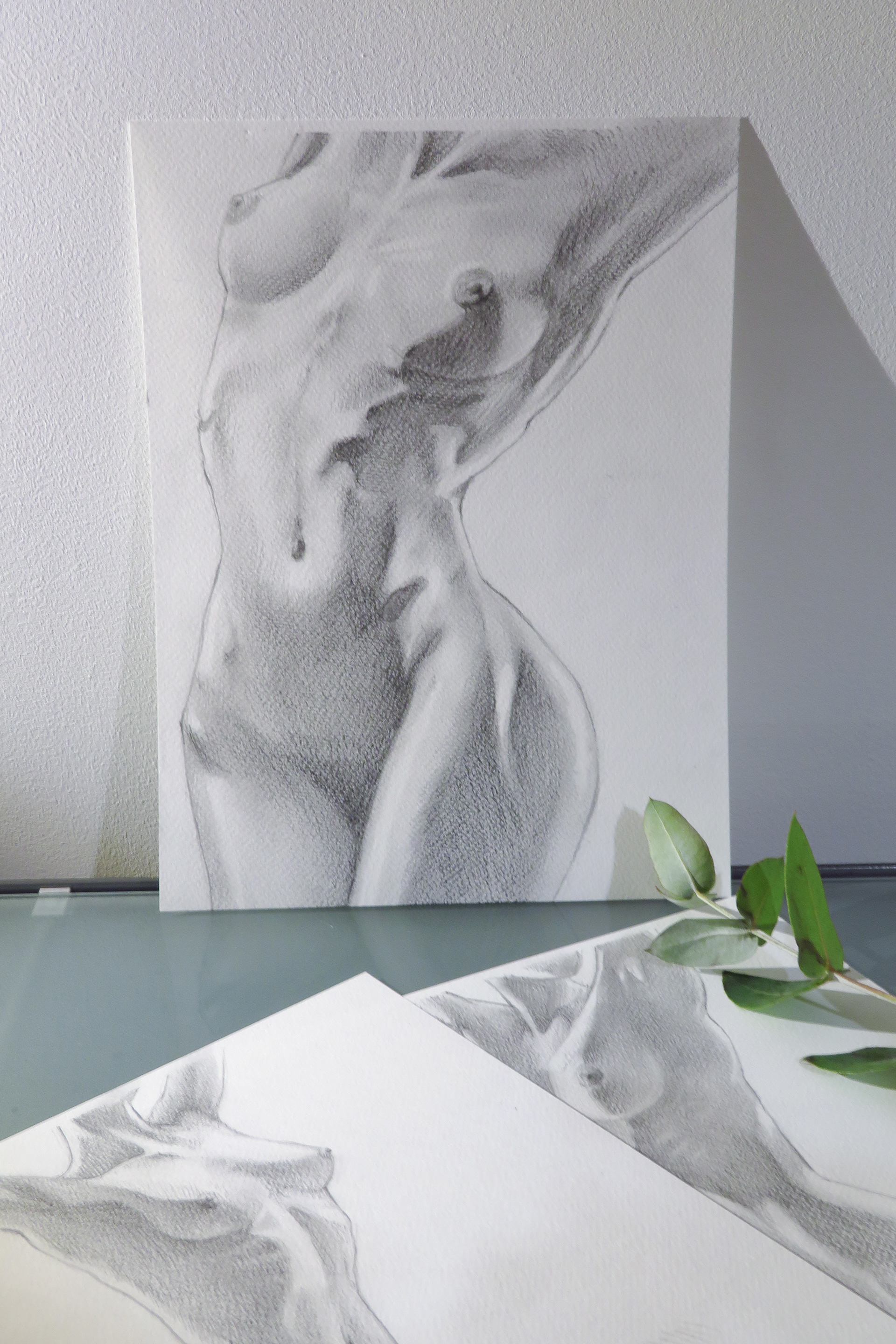 Delivered to the customer
Thank you for buying my art and by doing so support me as an artist. I am incredibly happy you have chosen my art among others. It also means we share some values. 
Dear Bobo, thank you a lot! I hope you will enjoy your oil painting "Natural".
28-11-2020
The best appreciation for the artist is a wish to take his/her art home. Thank you dear friends!
Duitje - a great platform for artist's support
Thanks to Duitje we can support creative people especially during such difficult times.  It is a great idea because together we are stronger! I am lucky to be a part of this platform since this month. Here you can read the article and support me if you feel like:
https://duitje.online/blog/interview-with-julia-filament
Smash The Narrative "You can't paint that" | REOPEN
12:00 - Door open & performance 1
14:00 - Opening speech
15:00 Performance 2
Location: NDSM FUSE, Amsterdam
The exhibition will be open every Th-Sun 12:00 - 18:00, till September 20
Photos from the Grand Opening March 7, 2020 before the lockdown
Photographer Look J. Boden
More info: www.smashthenarrative.com
21-06-2020
Publieke Werken Rotterdam - city exhibition
Yay! This digital painting is selected to be exhibited in Rotterdam during Publieke Werken Rotterdam. Instead of advertising of the events, which were canceled because of Corona, the art of local creators will be presented.
Opening: J

uly 9 (more info on the website of PWR)
>>>

YOU CAN BUY A0 / A3 POSTER

<<<
Limited edition (9) of A0 posters will be available for sale (€35 per poster). Contact me if you like to have it!
10-05-2020
Working home. Staying positive.
Thinking of where we are going to and what will change after the isolation is finished  what do you think our society will have to deal with? Which conclusions are we gonna make? Maybe it is not so necessary to travel far away for a meeting, because now we manage to arrange great work meetings with the team online... Maybe it is also good for our planet?
From 2013 on till 2018 I was working from home all the time. It was challenging to organise own day and to stay productive, but now while looking backwards I see that it was productive and I enjoyed it a lot. In 2018 I started to study at Grafisch Lyceum Rotterdam (graphic design). Since then I'm used to the structure. However working home saves traveling time and adds comfort. However there are more destructions like some daily activities, coffee and my cat :) It requires just a bit more self-control. I also noticed that I miss my art-studio. It would be perfect to have it now.
I hope you are dealing well with self organising and manage to stay happy with own productivity and have enough time for revaluation and relaxation.
Smash The Narrative "You can't paint that" | Art Prize & Exhibition 2020
We were working on this project together with James for more than 1 year (specifically on 2020 art prize). We went bigger (bigger location, but also more than 2 times more people applied - 280 applications). The location type was different and we had to find a right approach and to go over some organising challenges. But in the end it was fun, educative and creative.
As an co-organiser (or manager?), I've learned a lot this year. It was again a great experience. And if you ask me if I would do it again? Definitely.
Exhibition will be prolonged in September 

(for now closed because of C-virus)
Location: NDSM Fuse, Amsterdam
All photos of the vernissage - www.smashthenarrative.com
Organiser: Julia Filament
15-10-2019
"Drink Coffee = Grow Humanness" & Eversys, Switzerland
I'm happy to share with you my amazing experience of visiting Eversys office in Switzerland! Super thankful for that and proud to be part of such a mindful organisation.
Special thanks to:


- The Coffee Art Project organisation for organising such a beautiful project.
- Eversys company for having my work and having a beautiful mission, also for arranging our stay in Switzerland.
Was happy to meet the director of Eversys Jean-Paul and the professional and friendly team.
In 2014 I took part in the amazing project organised by The Coffee Art Project in Amsterdam and have won it.
All these years my painting "Drink Coffee = Grow Humanness" was travelling around with the project and recently was sold to the Eversys company. After all they also created 200 of the reproductions of this painting and will give it as a gift to their special guests invited for celebration of 10 years anniversary of the company.
This company carries for people who are engaged in the cultivation of coffee. They take part in organisation educational programs for people working on coffee plantations in order to improve the overall life of the population of these countries. Since coffee is one of the main sources of income for those countries, it is important to have a good structure for growing and producing.
They not only care about the success of their company, but also about the future, their own future and people they work with.​​​​​​​
03-10-2019
RMBRNDT.NU | Klaproos Amsterdam
"Inspired by the old master Rembrandt van Rijn, RMBRNDT.NU is an exhibition of contemporary artwork. The Dutch word NU means NOW. The idea for this exhibition emerged from the fact that many beautiful artworks submitted for the LangLeveRembrandt exhibition in the Rijksmuseum ultimately did not find their way into a gallery space. Are you an artist who feels inspired by Rembrandt? Then participate by submitting your work."
It was a challenge, but a perfect challenge which made my eyes burning when I've seen the open call. I've seen it too late (1 week before the deadline), bought a canvas and said to myself "I will be on time!".
After the concept was ready I painted this work day by day around 4 - 6 hours per day. It was clear to me why I would like to participate in this exhibition: old master in a new way with the new concept behind.
Why Rembrandt painted only those men studying anatomy back then? Because it was the norm of that time. But is this norm the same now? I removed the figures from the painting and replaced it with my personal portrait style - head in the cube shape. Now the viewer can put any character they can imagine instead of the painted by Rembrandt men. Woman? African man? Transgender? Who do you see there while looking at my painting?
More about this project on my website in the "Projects"
Thankful for all who organised this project and made it happen! And of course thanks to all who came to the exhibition!
14-09-19
Exhibition in Amsterdam, De Hallen Amsterdam
Thanks to Cathelijne Mulders and team I could take part in the exhibition "De Kleurrijke stad" together with 9 other artists.
Great experience and people!
28-06-19
Exhibition at 't Buro & SBK Amsterdam
Exhibition at 't Buro & SBK during Open Ateliers Amsterdam Noord
Thank you dear organisers and visitors! Special thanks to @natt_jewellery invited me to participate in this exhibition.
14-04-2019
I was honoured to exhibit my paintings at Fenixloods during South Explorer 2019.
Beautiful location, interesting light, welknown place, place to be for young and all creative. Was happy to be part of this art rout. Thank you everyone who joined the exhibition and support us!
And thankful to Bianca van der Hulstand & Lea Theunissen for inviting me to be part of this exhibition.
Works exhibited:
"Attention" collection: "Blend in the environment", "I have it all... or not" and "Show off"
03-03-19
Exhibition at Gallery MAAN Bilthoven
The exhibition at Galerie MAAN in Bilthoven is open.
First of all thanks to Yvette Gumbs for organising such a beautiful exhibition! Good organised, great selection of works fitting with each other. Thank you who visited the expo too.
Exhibition is open till April 30. Check it out! There are many great works of art.
Address: Kwinkelier 22, 3722 AS Bilthoven
ARTISTS: Martin Copier, Ruxandra Bocin Dumitriu, Don Satijn, Anca Costescu, Susan Haag, Imanuel Maan, Julia Filament en Zippora
04-11-18
Smash The Narrative | Alter Nation 2018 - Art Prize & Exhibiton
One year ago I was asked by James - initiator and sponsor of this project to be a manager and organise the art prize & exhibition. At that time I had experience in organising smaller scale expos and was happy to challenge myself to organise a bigger one. I knew how and what, James knew what he wants. We made a team.
One of my tasks was to find a gallery, where the final exhibition and award can take place. We were lucky to start working with GO Gallery - very professional and friendly at the same time Oscar and Farud became great hosts for the art prize.
06-09-18
Stedelijk Museum Schiedam | 'Vruchtbare Grond' 6 - 9 September 2018
I was invited to take part in this exhibition in Stedelijk Museum Schiedam by Nancy Roeters who is a jewellery artist from Schiedam. She exhibited there own work of art and had right to invite someone else. I was happy to be invited by her and participated in this very interesting exhibition. Together with all artists we had 132 works of art. One work of my last collection "Attention" was exhibited there.
Thank you everyone who were part of this great happening.
24-05-18
This year I was lucky to be invited to exhibit my works of art at the big art fair which will take place in the SCHOUWEN-DUIVELAND, The Netherlands on 16 - 24 June 2018.
This is an expo of more than 200 artists on 12 different location through the whole island, which you can visit during the art week.
Location: Kerkwerve, Au3 Gallery
General location: Schouwen-Duiveland, Zeeland, The Netherlands
Opening / Vernissage: 15-06-2018
More info: www.kunstschouw.nl
25-02-18
Opening Art exhibition "Geuzenmaand"
Thursday, March 8, 2018
Opening Art exhibition "Geuzenmaand"
20:00, Museum Vlaardingen, Westhavenkade 54
Opening of the group exhibition of artworks, related to the theme of the Geuzenmaand (The works will be on display until 31 March at Museum Vlaardingen and KADE40, during opening hours).
Curator: Frans de Winter
What is Geuzenmaand?
The Geuzenmaand is a a global concept and tribute to people and organisations that oppose dictatorship, discrimination and racism. A beautiful and driven initiative that ensures a historical awareness. The ceremony has modest and honest character that fits the occasion. This event is of great significance for Vlaardingen (The Netherlands) and its surroundings.
22-11-2017
Karmijn | Coolsingel Rotterdam
Happy to share that half year ago I've joined a new art collective Karmijn. All time we were busy with promotion and inviting people to create a great community of artists. At this moment we have more than 40 creative people united.
November 18 we had an opening of the 1st exhibition together at Coolsingle nr. 69, Rotterdam. It was amazing exhibition and I'm proud to be part of it. If you missed it, it is still open till November 30, every Tuesday - Sunday from 11:00 till 18:00. Feel free to drop by.
22-08-2017
Packing the sold paintings
Proud to share with you that 3 works of mine have found a new house recently. Together with my assistant we have decided to show you how do we pack the works of art when they are sold and filmed the packing process from the beginning till the end. Now the customer and you can see how it happens and in which condition you will receive the work if you buy it.
Also I would like to thank Simon (customer) for giving us an opportunity to create this.
22-08-2017
Exhibition of collection "Natural"
I was lucky to get an opportunity to present my the newest collection of paintings "Natural" at the great location - in the big church in Overschie (Rotterdam). While the Monuments day in Rotterdam together with the festival "Verwonder Overschie" I participated in a beautiful happening with variety of artists, photographers, performers, dancers.
Thank you, the organisation and everyone who helped out and visited the event!